If you've read this blog for any period of time or actually know me, you know that I am not one of these skinny-mini-eat-salad-on-a-date kind of girls.  I like to eat.  Don't get me wrong.  I'm not Miss Piggy or anything…I just like to eat.  That also means that I'm not one of these girls who lets the fact that the pig is the universal symbol for fat get to me.  Samuel L. Jackson's proclamation (as "Jules" in Pulp Fiction) that "A pig is filthy animal" doesn't bother me one bit.   A couple weeks ago, when my friend Gretchen reminded me that she doesn't eat pork and requested that I leave the bacon crumbles off her serving of the Pumpkin Goat Cheese Risotto I made to kick off our Walking Dead Season 2 marathon, the only response I could muster was "But…you've TASTED bacon, right?"  It just blows my mind that someone could have actually tasted bacon and decided against it.  Pulled pork, I get.  Even ham, I understand.  But bacon?  Seriously?!?
But I digress…I mentioned to you that I spent last weekend in the Durham-Chapel Hill area for a work-related workshop.  What I didn't tell you was that while up there I attended a "porkapalooza" event.  Yeah, you heard…uh, READ me right – PORKAPALOOZA!
Every summer, Foster's Market does regular Farm to Table dinners. Â I've known about these for years and I have never been able to go because they are always at 6:30p on a Thursday night. Â Since Chapel Hill is about a 2.5-3 hr drive from Charlotte, and I always find out about them after my work schedule is full of patients, going would mean having to cancel my Thursday afternoon patients as well as my Friday ones ('cuz there's no way I'm gonna drive back from dinner 3 hrs away, then get up early for work the next day). Â Well, my workshop started early Friday morning, so I drove up Thursday night ('cuz there's no way I'd get up in time to leave Charlotte at 6:30a on Friday morning) and, as luck would have it, Foster's was having a Farm to Table dinner that night!!
This dinner was to celebrate Cane Creek Farm of Snow Camp, NC, who specialize in "unique breeds of pigs" and an "ever expanding family of goats, chickens, turkeys, sheep, donkeys and ducks."  Knowing that, is it any wonder that Foster's theme for their Farm to Table dinner was a "Porkapalooza" in which the entire pig was cooked…in multiple ways… invading every course…even dessert?
I know the word "Porkapooloza" sounds…well, what's the word I'm looking for here…ummm…ok, I'm just gonna say it – redneck! Don't worry. Â In true Foster's fashion it was very farmer chic! Â (And, yes, "farmer chic" is a real thing and I TOTALLY dig it! Â Remember our lunch here 2 yrs ago?)
The meal was served family style on the mismatched farm tables throughout the market.  The Mr. chose not to couldn't come with me, so I was on my own but quickly made friends with my table mates. We sipped on a fantastic 2011 Mendocino County Gerwurtztraminer while we chatted about missing our grandparents home grown veggies and wishing that we'd payed more attention when our grandmothers were canning them, all the while nibbling on hors d' oeuvres of Pork Rillette and Country Pâté with Crostini and tons of pickled veggies.
I'm not really a fan of pickled anything, so I passed on most the veggies.  (Besides, what am I – a chump? What kind of dummy fills up on veggies when there are four courses of pork on the line?  A girl's gotta conserve energy where she can.)  I didn't love the rillette (weird texture) but, surprisingly, I really enjoyed the pâté.  (Little known secret – I was a pâté virgin until this dinner.)  Next came the soup course – Split Pea and Ham Hock with a side sliver of fresh bread loaded with herbs and caramelized onions.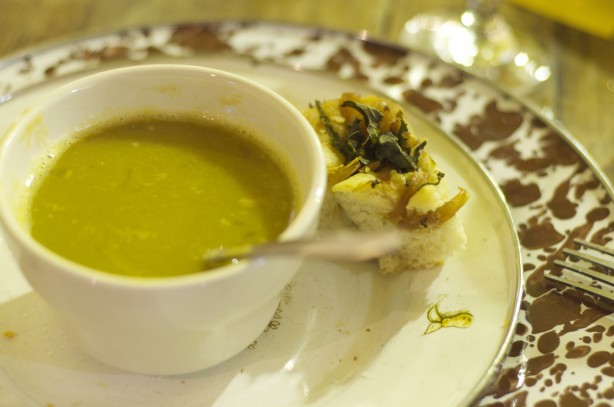 I lie to you not, the bread basket came with a little dish of LARD to spread on the bread instead of butter. Â Unfortunately, I didn't get a picture, but I promise you I'm not making that up! Â After all, they did say that they would be using the WHOLE pig…I guess that includes it's fat.
We switched colors and nationalities of wine for the entree…a 2010 Tempranillo to be exact.
Maybe I should say ENTREES, because it involved 3 pork offerings – 1)Â Housemade Italian Sausages with Peppers and Onions, 2)Â Porchetta, and 3)Â Braised Pork with Plums, Sage and Onions
served with sides of Creamy Polenta that was topped with some sort of sweet potato glaze and Wilted Kale and Spinach with a Warm Bacon Dressing.
I had a little bit of everything.
It was all crazy good, but that sausage was out of this world. Â BEST. Â SAUSAGE. EVER. Â There was TONS of food and, since sausage is The Mr.'s favorite food group, I (thoughtfully) boxed up some left overs to take back home to him…
only to get back to my hotel room and discover that I didn't have a mini fridge in which to keep it until I headed back home on Sunday. Â Sorry, dude. Â Ya snooze, ya lose.
Sarah (as is Sarah Foster, herself – owner of Foster's Market, former apprentice to Martha Stewart) came by our table while the staff cleared the entrees to inquire as to whether we were enjoying ourselves and the meal.  She urged us to save room for the dessert because it was "incredible." She also informed us that although the menu listed Caramelized Apple Upside Down Cornbread Cake with MAPLE Bacon Ice Cream, it had been changed to a SORGHUM Bacon Ice Cream, because the "sorghum just worked better with the bacon."  Since she was standing right next to me, I made a little joke that, in my humble opinion, there just weren't enough desserts that involved bacon.  She gave a little laugh and patted me on my shoulder!
(You know what that means, don't you? Â It means that Sarah and I are kinda like BFFs. Â I imagine that, had Martha been dining with us, she would have laughed at my joke too. Â So…if Sarah and I are now kinda like BFFs…and she's also BFF with Martha…and Martha probably would have also laughed at my joke then…by extension, that means me, Sarah, and Martha are all BFFs together…just three peas in a pod… What? Â It could happen.)
But, again, I digress…Now, about that dessert. Â Actually, there are no words. Â I'll just let you look…Oh, and look closely. Â Do you see what I see?
Uh-huh. Â Little chunks of bacon IN the ice cream. Â I know it sounds weird, but it was really REALLY good. Â I'm not a person who loves sweets and this was a great balance of salty and sweet. Â The cake part was a little dry, but it was a cornbread cake. Â When have you ever had cornbread that wasn't dry? Â Besides, who really cares about the cake anyway when there is bacon in the ice cream on top of it?
You would think that bacon-laced ice cream would be the clincher to my porktastic weekend, but the next day when my workshop broke for dinner, I made a b-line here
to check out some local brews, only to find the Big Mike's BBQ food truck parked outside. Â I washed down a BBQ sandwich with Fullsteam's Carver Sweet Potato Lager.
I loved the beer. Â Not too heavy, but very tasty. Â Perfect for an early fall afternoon. Â (Wish I'd had more time to spend there…) Â The sandwich was good, but I'm not a huge fan of BBQ. Â But their dessert was something else entirely. Â As I close, I'd like to post this question to you – What's better than banana pudding?
Yep, you guessed it – BANANA PUDDING WITH BACON!! Â Now THAT is certainly worth a trip to Big Mike's.
With this weekend, I think I've had my allowance of pork for the next 6 months or so…which is good because, according to Stephen Colbert, we're on the verge of an Aporkalypse due to the recent drought.