BG and I couldn't decide who could best tell you guys about our time at the Wasatch Brew Pub in Park City, so we are BOTH going to tell you about it. Â This will be the inaugural post for a (hopefully) regular segment called, appropriately, "He Said/She Said" in which we give you both his perspective and mine on a particular event, place, food or beverage. Â It's not that complicated an idea so, we trust no further explanation is needed. 🙂
After wandering around Main Street Park City for a few hours we grew thirsty. Â Since BG is never one to pass up a local brew we, of course, wandered right on into the Wasatch Brew Pub to do a little tasting and quench our thirsts.
We were excited. Â After all, we had tasted the Wasatch Devatstator at No Name Saloon and really enjoyed it. Â At first glance, there was lots Wasatch goodness to try.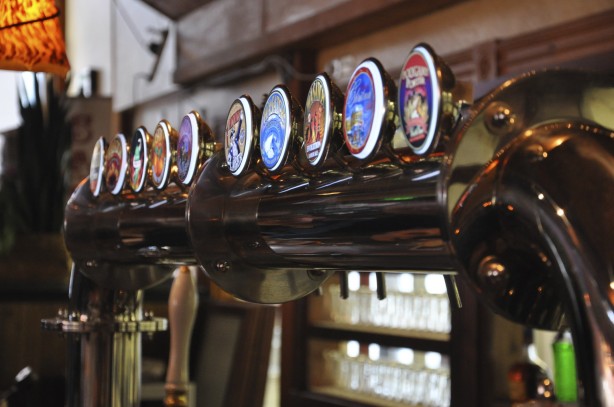 She Said: I'm sorry to say, that's pretty much where the excitement ended and the disappointment began. Â Disappointment #1 – The brewery didn't sell a flight or sampler. Â What brewery doesn't sell a sampler… You know, so you can sample everything, then order more of the ones you really like. Â Hmm, I think I just answered my own question…
Disappointment #2 – The beer on the draft pulls didn't match all the beer listed on the tasting menu.
We're foodies. Â We like tasting notes.
Round 1: Him – Wasatch Hoptoberfest, Her – Nitro Cream Ale
He Said: Meh … Not hoppy. I'm sure there's more to say, but when one advertises one's brew as a "Hoptoberfest" … well, one best be bringing the hops.
She Said: I wanted the Nitro Bobsled Brown Ale listed on the tasting menu. Â Not available. Â So, I got the Nitro Cream Ale.
Blah! Â Not much going on there except a lot o'foamy head. Â  Loved the Devastator from earlier today, so I'm optimistic about my next round.
Round 2: Him – Wasatch White Label (bottled), Her – Apricot Hefeweizen
He Said: A Belgian ale. (She Interrupts: 'Cause my man loves him a Belgian!) It's cloudy, with a pale straw color. There's honey and spice on the nose with good flavor and a nutmeg finish, but the carbonation is overpowering.

I'll give it 3 of 5 kegs.
She Said: BG had me take this pic to prove that "no fruit was injured in the drinking of my beer."
He Said: What?!? Drink it like the brewer made it! Beer for me, hold the fruit.
She Said: Um…but we're actually at the brewery and that's how they served it… Whatevs! On to my apricot hef… Wonder if the Brew Master intended for there to be a lot of apricot in there? 🙂
Well, that's apricotty…and flat. Smells like shampoo, though! Â (He Interrupts: "Let me taste that.")
He Said: Once again, a cloudy straw color. Strong apricot smell. Strong apricot taste…strong apricot everything. Everything, but not enough carbonation. I'll give it 3 out of 5 kegs, but I won't drink two at a sitting.
She Said: Smells like shampoo, kinda tastes like it too.
Round 3: Snack Time – Macaroni and Aged White Cheddar Cheese
We got a little peckish admist all our tasting. Â So we decided to split some Mac and Cheese. Â After seeing this on the menu, how could be pass it up?
As good as it looked on the menu, it looked even better when it arrived.
He said: nothing. He was too busy shovelling the hot delicious goodness into his beer hole.
She said: Oooohh…dig that cheesy goodness! Â If there's macaroni in there, it's filler. Â That's the best thing we've had since we got here. Â Maybe they've missed their calling. Â Maybe they should change focus from a brewery to a mac-n-cheesery!
Round 4: Him – Jalapeno Cream Ale, Her – Winterfest Seasonal
He said: And now, gentle reader, it's time to explain the title for this post. WineGirl and I were sitting at the bar, next to a pair of other couples. The fairer of the couple to our left cried out as she tasted her Jalapeno Cream Ale. She said it was like a spicy Bud Light, and recommended it to WineGirl. "Hmm," sniffed WG dismissively, "I'm kind of a beer snob." I suspect that WineGirl would have been more pleased with the Bud Light.
Upon visual inspection, this hot little beer was clear and golden with a 1/4″ head.

Jalapeño scent on the nose and with the first tast of foam. Whoa! Tastes of jalapeño. And the aftertaste … you guessed it – jalapeño! This would be a kick ass beer for Tex-Mex food, but on the whole feels a bit like a gimmick beer.
I look into the future, and decide that this is my first brew that actually requires Prilosec!
She said: I'm not a jalapeño fan, but he's ranting and raving enough that I have to at least try a sip…
Man, who thought THAT was a good idea?  Bad!! Very, very bad!! Why would you ever drink anything that tastes remotely like jalapeño?  And I totally disagree.  It would NOT be a "kick ass beer for Tex Mex food."   The Rogue Chipotle Ale was perfect for that.  That was a nice amber ale with a slight smokey, chipotle finish.  This was like somebody put a jalapeño in a juicer and added some carbonated water.  There's been so little flavor in pretty much everything else we've tasted today.  Why did they decide to blow their wad on the jalapeño? So very, very, VERY bad…
I need to go brush my teeth and eat a Tums. Â Oh, but I guess I should tell you about the Winterfest Seasonal.
Frankly, I can't tell you what it tastes like because my tastebuds were sacrificed in the tasting of the Jalapeño Cream Ale.  Looks pretty in the glass, although it's a little light and yellow for my taste.  I'm more of an amber kind of girl.  Here's what the marketing fliers had to say about it:
Greatest beer on Earth? Â That's over egging the pudding a bit, don't you think?
Wasatch Overall
He said: The beer here smells good but it lacks the advertised taste. Not bad, but it gets you excited and then leaves you a bit disappointed.
In like kind, every time a truly epic song would come on the radio in the bar, the staff would change it to some less daring channel, in one instance changing from Enter Sandman to a forgettable tune by Steely Dan. (A note to the reader, BeerGuy prefers the older Metallica catalog, but the black album is good, too)
Silver lining — very good service from Susan, and the macaroni and cheese was so good that they should name the place "Wasatch Mac'n'Cheese"
She said: Generally nice and friendly atmosphere in a great location. Â I've got to agree with BG, though. Â The beer generally smells really good (except for the Jalapeno Cream Ale – yuck!), but doesn't really follow through with the same flavor. Â They should narrow their focus and stick with what works – The Devastator and Mac-n-Cheese.
Even if I didn't love the beer, this was certainly much more fun than my near-death experience on the slopes!
Cheers, y'all!