Consider this post to be an addendum to my initial Spanish Cooking Saturday's post on paella. Â When I made it at home for me and the Beer Guy, I did it for two reasons: 1) I'd been wanting to make it for over a year and I finally had the pan to do it, and 2) I needed a trial run before I made it for my family while we were at the beach.
Since we were on the coast and I had access to more beautiful, fresh, local seafood, Â I decided to add a few ingredients that I didn't have in my first batch. Â In doing so, I realized there is one ingredient that you should never make paella without.
Was it these beautiful scallops…
or these meaty little mussels…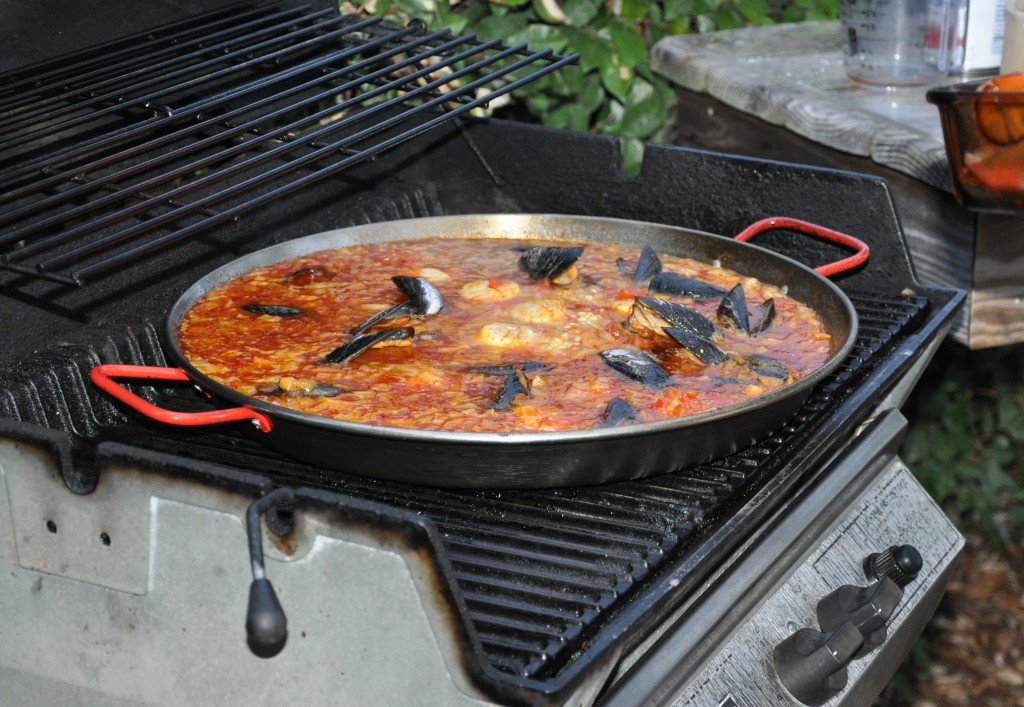 or the smoked sausage (the shrimp, lobster, and peas were in my first batch)….
or the moonlight under which it was cooked?
Nope. Â While all this ingredients definitely added more depth and ambience to my seafood paella, none of them are essential as paella can be made with any kind of meat/game, chicken, duck, or seafood.
The key ingredient to paella is COMMUNITY!  I mentioned in my inaugural paella post that real Spaniards eat the paella right out of the pan.  While BG and I had a blast doing that very thing the first time around, my pan holds 8-10 servings.  So the first night we had it, we got to eat it out of the pan  but the subsequent nights we had to dish it out in to bowls and reheat it.  That, of course, dried it out a little.
But to sit it in the middle of a table, encircled by my family, was priceless! Â We had a little pan con tomate on the side too. Â (I was too busy eating to get a pic of that.) Â The fact that we were doing this seaside, poolside, and under the stars wasn't too shabby either!
We neatly avoided the whole reheating-and-drying-out issue by eating it until there was nothing but empty lobster and mussel shells in the pan. Â 🙂
This is how this dish was meant to be served – IN COMMUNITY. Â Lesson learned – Never make paella without loved ones around you!
Cheers, y'all!